Mac user may experienced problem that the downloaded Visual Paradigm installer file was damaged and cannot be install.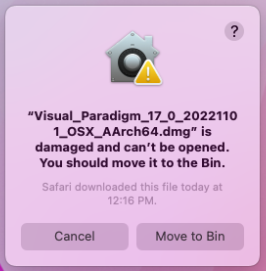 This problem most likely is caused by Apple haven't update the signature of our installation file, and causing Mac OS thinks it is a malicious software. You can perform the following steps to solve this problem.
Open Terminal
Enter the command xattr –d com.apple.quarantine %path_to_VP_Installer%
* Replace %path_to_VP_Installer% to the actual file path to your downloaded installer file


Enter command to whitelist Visual Paradigm installer

Execute the installer and perform installation as usual
* The command will not give any response that it works or not.
* If this still not work then please try to download the installer again from our website, or contact Visual Paradigm Support team for help.
/know-how_files/2017/12/vp_logo_header-1.png
0
0
Visual Paradigm Team
/know-how_files/2017/12/vp_logo_header-1.png
Visual Paradigm Team
2022-11-11 13:54:33
2022-11-15 09:05:01
Downloaded Installer is Damaged and Cannot be Install on Mac