Starting from Visual Paradigm version 17.0 you can define your own project template, and make it available for your team to create new project. In this article you will learn how to create project template for your team.
Prerequisite
You are your team must using either VP Online or Teamwork Server as your project repository.
Both VP Desktop Client and VP Online/Teamwork Server need to be in same version, and in version 17.0 or above.
Create Project Template
First thing you need to do is define your project structure, including containers and diagrams. You can even define default model elements in your project.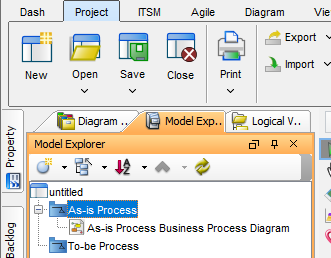 When finish, go to Project > Export > XML to export your project into Visual Paradigm XML format.

Upload Project Template
Now you can upload the XML file to repository as project template.
Login to VP Online/Teamwork Server as user who got Manage projects template permission.
Select Project Template under Management list.


Select Project Template under Management list

Press Upload button to upload the project XML file.


Upload XML

Specify the Name as well as Description of your template.


Specify template details
Create New Project from Template
Once templates ready in your repository, user on VP Client application can create project from your template. To create project from template:
Go to Team > Select Repository > Existing Registered User and login to your repository. * If your workspace already configured the connection then it will automatically login for you when application starts.
Go to Project > New.


Create new project

Select from Template.


Select create project from template

Select the template from the list.


Press Create from Template to create new project.
/know-how_files/2017/12/vp_logo_header-1.png
0
0
Visual Paradigm Team
/know-how_files/2017/12/vp_logo_header-1.png
Visual Paradigm Team
2022-08-01 18:12:48
2022-08-01 18:12:49
How to Create Your Own Project Templates